Givens & Druthers
---
Back to layout overview
---
Givens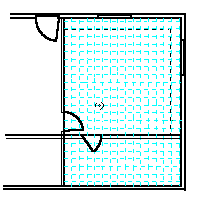 The layout is in a finished cellar room (15'-9" x 15'-9") with an adjacent workshop (15'-9" x 6'-6") usable for staging. Ceiling height is 87". The only intrusion into the larger room is a single support column. Outside walls are cinder-block faced with foam insulation and a 2"x4" stud wall. Interior walls are non-load bearing pine panelling nailed to horizontal 2"x4" framing.
The space to the left of the train room can be used, but access needs to be maintained to an outside door and the ceiling is cluttered with overhead plumbing for the forced-hot-water heating system.
In anticipation of train operation, a 30" tall 18" deep "under-bench" was framed along the two outside walls of the train room in order to move the baseboard radiators out from under the train benchwork.
I am 73" tall with a 67" eye-level, 55" high armpit, 45" high elbow, and 30" tall waist.
---
Druthers
H0 scale, double-deck, single track, sincere track plan.
Point to point with hidden track for continuous running.
Prototype-freelance based on Boston & Maine and Maine Central in NH.
Walk-around design with digital command control.
Operation by one to eight people.
30" minimum aisle with no duck-unders or backtracking.
All staging exterior to train room, but easily accessible.
Mainline will be code-83 with 26" minimum radius and #6 or larger switches.
Branch lines and sidings will be code-70 with 22" minimum radius.
Industrial trackage will be code-70 to code-55 with 18" minimum radius.
Maximum grade = 2.5%.
Average freight train length = 10 cars.
Average passenger train length = 3-4 cars.
Era: (1) late 40's, (2) mid 70's, and (3) present day.
( More stuff coming - stay tuned ;-)

---